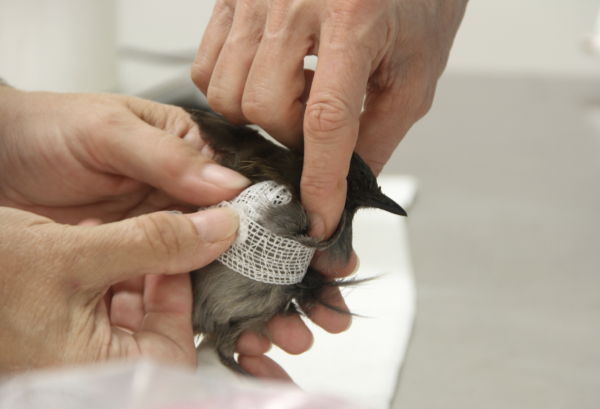 INTERNSHIPS AND EXTERNSHIPS
Wildlife Rehabilitation Internship
The Wildlife Rehabilitation Internship at HWC is meant to provide an introduction to native Hawaiian wildlife rehabilitation and prepare interns for a career in animal care, wildlife, conservation and veterinary medicine. The intern will work directly with our Veterinarian/Wildlife Rehabilitation Manager and Wildlife Rehabilitation Technicians in the daily care of patients at the Hawaii Wildlife Center. By the completion of the internship interns will be familiar with common native Hawaiian wildlife, husbandry, animal care, rehabilitation goals and techniques.
Hands-on training will be provided and the intern will be given more responsibilities and trust as they learn and feel comfortable with certain tasks. Supervision will always be available and the interns will not be asked to do something out of their comfort zone. In addition to hands-on learning, didactic teaching will be incorporated to provide the intern a foundation in the sciences, medicine, rehabilitation and the rules, regulations and ethics of the practice of wildlife rehabilitation.
Interns will be taught diet preparation, feeding of wildlife, how to assist with physical therapy and rehabilitation of patients, examinations, medical record entry, cleaning and maintenance of enclosures and aviaries, general hospital cleaning duties, administration of medications with supervision by staff, monitoring of anesthesia, running of blood work and other laboratory tests, and more.
Internships are offered in three terms each year.
We accept a maximum of 2-3 interns per term. Applications are accepted on an ongoing basis.
– Winter/Spring Term: January-May (2023 : spots available)
– Summer Term: June-August (2023 : spots available)
– Seabird Fallout Term: September-December (Busiest Season) (2023 : spots available)
More Information

Duration of 6-12 weeks
3-5 days/week depending on duration of internship
Minimum of 200 hours for completion of internship
The intern will be asked to work on a final project on a topic approved by the Director of Wildlife Rehabilitation and Veterinary Medicine
Animal experience and a science background is preferred but not required
Must be 18 years of age or older
Intern is responsible for own expenses including travel, housing and transportation
How to Apply

Please email your Resume/CV and Letter of Intent to birdhelp@hawaiiwildlifecenter.org. Please also let us know what term/dates you are interested in applying for.

Applications are accepted year round. During Oct-Dec we may be delayed in responding due to the busy fallout season.

Applications for the summer term are competitive and will be reviewed starting January 1st and we would like to have them in by February 15th to give all applicants a fair chance. You may still apply later than this, but spots may or may not be available, feel free to ask us as cancellations do occur.
---
Wildlife Veterinary Externship
Two-week externships are also available for current veterinary school students. Wildlife hospital externs will work closely with our veterinarian. Skills developed will be similar to the internship, with additional clinical topics covered. Please contact birdhelp@hawaiiwildlifecenter.org for more information.
---
Program Feedback

"Favorite aspects of internship was seeing how well a team works together to give the best treatment possible to wildlife, as well as learning very useful skills that I'll carry on throughout my career!"

"I didn't have any expectations, but I ended up doing so much more than I could have imagined. I guess my favorite part was when the birds would get released because they were rehabilitated as much as they could be."

"The hands-on aspects were obviously the best, and the whole internship gave me confidence in my future goals."

"I really enjoyed my time there and felt like I left with a wealth of knowledge. The training was very hands on and I learned by doing. Any questions I had were always answered thoughtfully."

"Dr. Juan was a good mentor and I enjoyed working with him as an extern. We had regular discussions on cases and I was able to work on skills that I had little to no experience in with avian species. I felt more confident as I completed my externship in working with avians."