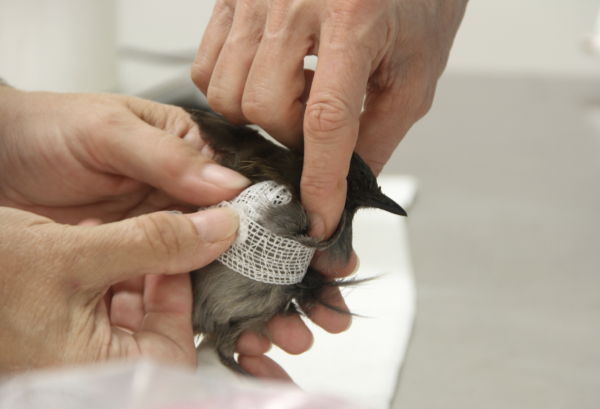 The Hawai'i Wildlife Center is dedicated to providing professional, quality wildlife care that meets and exceeds national standards. HWC provides medical treatment and is fully-permitted for wildlife rehabilitation. Our primary care veterinarian is Dr. Juan Guerra, Wildlife Rehabilitation Manager. HWC also works with a team of pro-bono and consultant veterinarians both locally, statewide and nationally to ensure the best achievable medical care for our wildlife patients. Learn more about our veterinary support.
The Hawai'i Wildlife Center serves all Hawaiian Islands. We treat and rehabilitate all native seabirds, shorebirds, waterbirds, birds of prey, forest birds and the Hawaiian hoary bat.  Of the 70+ taxa we care for, 90% are federally threatened, endangered, or of high conservation concern.  For a list of accepted species visit our Native Species page.
If you have found a bird or bat and need assistance, please CLICK HERE. Please note that we do not rehabilitate introduced, nonnative, exotic, domestic, or agricultural animals. However, we are happy to help connect you with someone who can step in for these species.
FROM INTAKE TO RELEASE
---
The HWC provides quality, professional care to sick and injured native birds and bats from throughout the Pacific. From impact injuries to animal attacks, the cases we receive at the Center are extremely diverse
Each patient receives care based on their individual recovery treatment programs for a few weeks, or up to several months. This involves up to ten hours a day for feeding, medical care, caging development, exercise, and behavior monitoring and enhancement.
We have a standard intake process for each patient, including a full examination and labwork. Once completed, we determine the animal's appropriate fluid therapy and nutritional support, as well as any medical treatment or follow-up that may be needed.

Depending on the condition of the patient, once the intake process is complete it will either go into intensive care, supportive holding, or out into a specialized recovery yard aviary. We closely monitor the bird or bat as it recovers and provide ongoing care and checkups and needed. The patient is released once it meets all of our health and behavioral criteria. Learn more about our rehabilitation services here.
---
Hospital Highlights
Internships and Externships
Internships and externships are offered on a limited basis. Interns and externs work closely with our team to develop practical skills to prepare for careers in animal care, wildlife, conservation and veterinary medicine.